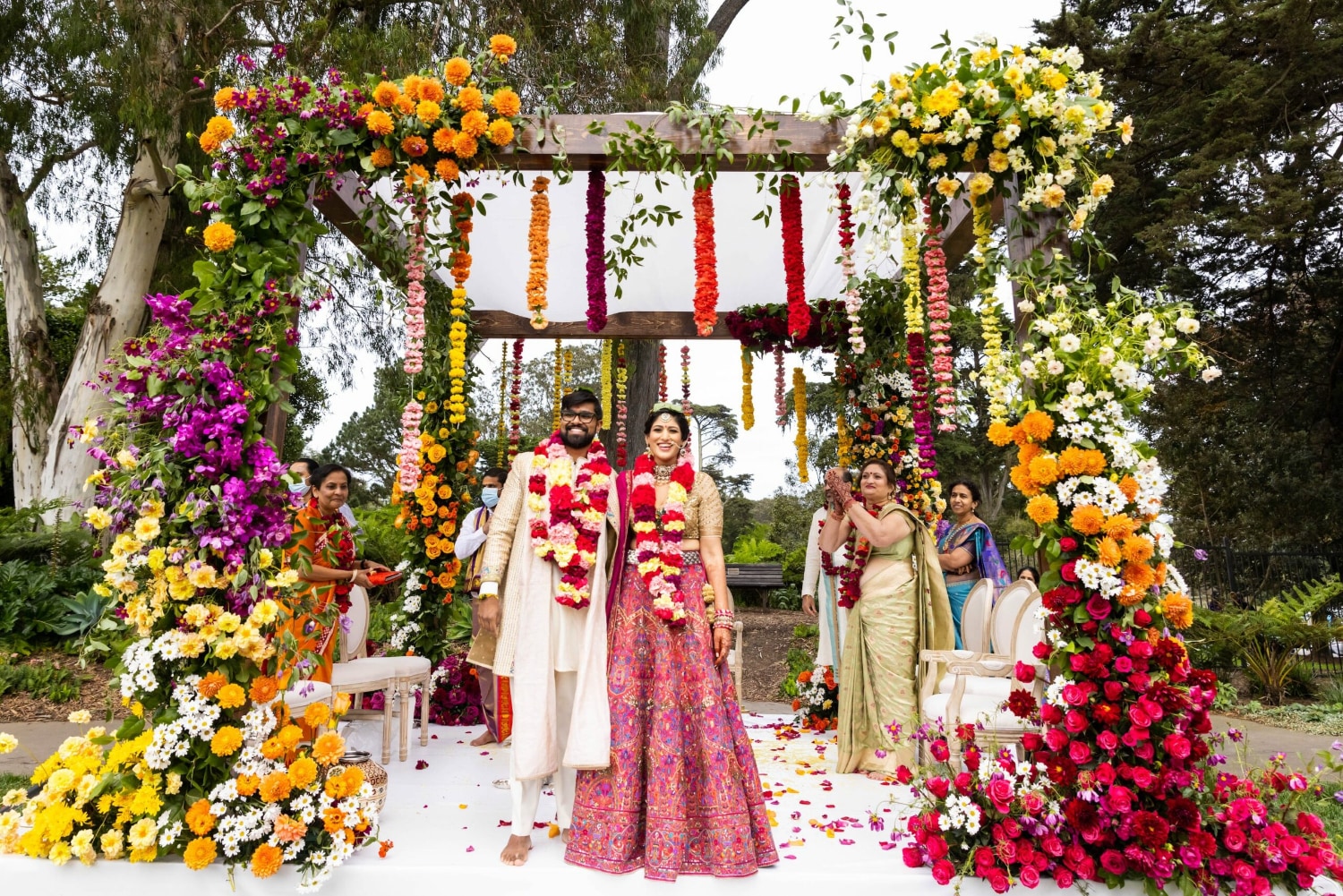 Your Event at the Garden
The Gardens of Golden Gate Park offer several unique outdoor and indoor venues for creating an unforgettable event. Whether you're seeking an intimate ceremony location, hosting a wedding reception, celebrating an anniversary, throwing a company picnic, or creating an inspiring corporate event, the Gardens are a magical and timeless location for your special occasion.
Event Rentals
The Conservatory of Flowers offers rentals for a wide range of events–whether you're booking a corporate event, hosting a cocktail party, or planning your wedding or 25th-anniversary party, the Conservatory of Flowers is the most unique historical site in the Bay Area. This historic facility, located in Golden Gate Park, boasts five exhibit spaces with exotic plants and flowers from all over the world. Each gallery showcases unique plants and flowers, custom metalwork, and architectural beauty throughout the building. The Conservatory also has additional open-air spaces available for rentals including our Palm Terrace, Orchid Pavilion, and Conservatory Lawns.
San Francisco Botanical Garden offers five unique outdoor venues within the 55-acre garden living museum, showcasing 8,000 different kinds of plants from around the world. Themed gardens within the Botanical Garden such as the Garden of Fragrance, Moon Viewing Garden, Redwood Grove, Celebration Garden, and Zellerbach Garden of Perennials, serve as extraordinary, timeless event venues.
Vendors
We work with a pre-approved list of outside caterers, lighting, and other event specialists.
Availability
At the Conservatory of Flowers, weddings may be held year-round, daily, with rentals beginning at 5pm.
At San Francisco Botanical Garden, events may be held year-round, daily. Events in the Celebration Garden must conclude by 10pm. All other events and ceremonies must conclude by 5pm.
Pricing
For a quote, please complete the event inquiry form. To book your date, we require a site visit, a signed rental contract, and a 50% deposit.
Corporate Rentals
The Conservatory of Flowers is available to rent for company parties and promotional events. Our greenhouse is an elegant, lush backdrop for cocktails or a fun educational experience, while our rentable event space, the Orchid Pavilion, is a blank canvas that can be adapted to your needs. There's also a large platform in front of the Conservatory where cocktails/dining are possible. The Conservatory is a classic, iconic San Francisco landmark. We're a beloved venue for locals and an exceptional choice when you're looking to dazzle out-of-towners. Rideshare and shuttle drop-offs are recommended.
The Botanical Garden's expansive manicured Celebration Garden is also available to rent for a variety of events including company picnics, team-building retreats, and elegant tented receptions on the large green lawn, while the Redwood Grove offers an intimate, relaxed setting for a ceremony or casual gatherings.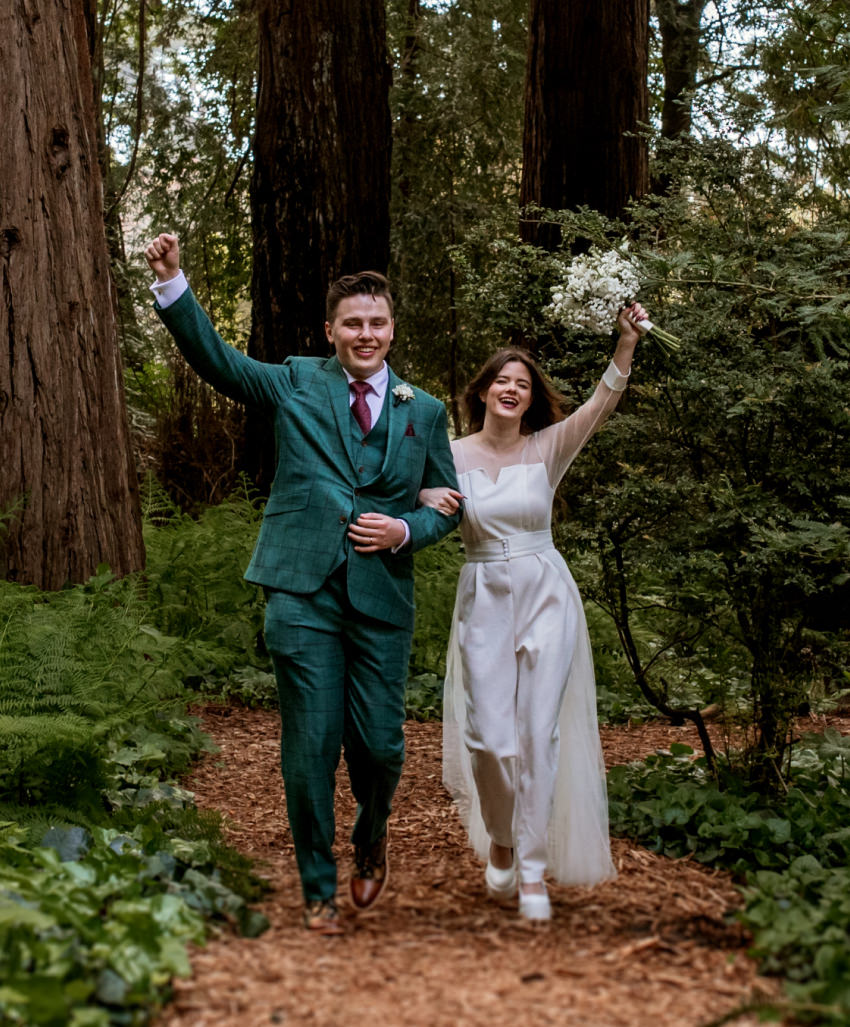 Weddings
The Conservatory and Botanical Garden are available to rent for a ceremony, cocktail hour, seated dinner, and dancing receptions. Host it all or scale it down.
At the Conservatory, wedding guests move through the landmark facility and garden throughout the event and appreciate the ease of ceremony and reception all in one place. Per fire code regulations, we cannot accommodate more than 200 guests inside the Conservatory at one time. For guest counts over 150, open air dinner takes place on our Palm Terrace.
San Francisco Botanical Garden offers a variety of gardens accomodating 2 to 400 guests.
Frequently Asked Questions
San Francisco Botanical Garden offers the following rental options:
1 Hour Micro Ceremony
Ideal for elopements, intimate weddings and mini ceremonies with up to 20 people.
The 1-hour timeframe is for simple standing ceremonies only, with no set-up or deliveries required.
Ceremonies must end by 5:00pm
2 Hour Ceremony Only
Perfect for individuals or couples who want a short and simple ceremony and will be hosting a reception at another facility.
Maximum guest count is 50 (60 in Redwood Grove).
All events must end by 5pm.
The 2-hour time frame includes set-up, ceremony, and clean-up. No deliveries of any kind are permitted, and the ceremony requires minimal set-up or décor. Catering and the serving of alcohol is not permitted.
4 Hour Ceremony or Event Rental
Ideal for those who would like a seated ceremony, casual meeting, or a light cocktail-reception.
Available locations: Celebration Garden, Garden of Fragrance, Redwood Grove, Zellerbach Garden
All events must end by 5pm.
The 4-hour time frame includes set-up, ceremony, light cocktail reception if time permits, and clean-up. Delivery/pick-up service for rental equipment is permitted within rental time frame. Small pop-up tents or umbrellas only. Catering and the serving of alcohol is limited.
10 Hour Event Rental – Celebration Garden
For all after hour events, or those events that include tenting, full-service catering, multiple vendors, or event build-out required.
Maximum guest count is 400 seated, 600 standing
Rental time frame: All events must end by 10pm, including clean-up.
The 10-hour time frame includes setup and breakdown. Tenting and amplified sound requires prior approval and additional fees may apply.
Yes, the following items are not permitted inside the Conservatory: outside flowers, cut flowers, other organic material, helium balloons, glitter, rice, confetti, bubbles. Some exceptions may be made in advance, speak to your Conservatory of Flowers contact.
No. Smoking is not allowed in any of the Gardens of Golden Gate Park.
Yes. The Conservatory has wheelchair access throughout. Please contact the Conservatory if you have guests with wheelchairs or limited mobility to arrange drop off and pick up.
The Botanical Garden has accessible pathways throughout the garden and our ADA accessible restroom is located next to the North Gate. We have a limited number of wheelchairs to lend on a first come first serve basis. The Conservatory is wheelchair accessible throughout. For more information, please view our Accessibility for Gardens Visitors Policy here.
Yes. Our pre-approved caterers are well-versed in the policies and procedures of the Conservatory of Flowers and are fully insured and licensed by the city and state. If our pre-approved caterer cannot accommodate a menu request, the Conservatory will consider and if appropriate, approve an outside vendor. The fee for using an off-list caterer is $2,500.
The Conservatory of Flowers provides on-site coordination to handle facility logistics related to the venue, vendor load-in, and site management, a month of coordinator is required for all events. The month of coordinator is required to stay through the entire duration of the event, including breakdown, and must be present onsite for all vendor load in and out. It is the responsibility of the renter to ensure that their coordinator is aware of this policy.
The Orchid Pavilion is our private event space, separate from the Conservatory. It is a blank canvas allowing clients to add their personal touches to their event. This space can accommodate up to 200 people standing, or 150 seated (100 with a dance floor).
Seated dinners are accommodated in the Orchid Pavilion or open air on the Palm Terrace and Conservatory Lawns. The serving of food and beverage is not allowed in the Conservatory galleries.
A restroom trailer is included in reception rental fees. If you're hosting a smaller gathering or a ceremony, the park's public restrooms are made available, without an extra fee, and kept open for the length of your event.
We highly recommend ride-sharing or the use of public transportation while attending events at the Conservatory. If you would like to use a shuttle service, please let us know in advance to confirm a pick-up or drop-off location.
Please submit your event inquiry here. Once your inquiry has been submitted, our events team will reach out with additional information and to schedule a site visit.
Amplified sound is permitted in the Celebration Garden at San Francisco Botanical Garden. A permit and sound monitoring by Park Patrol is required. Additional fees apply. Amplified sound must conclude by 10pm.
10 hour events in the Celebration Garden at San Francisco Botanical Garden must conclude by 12 midnight, including cleanup. All other events and ceremonies must conclude by 5pm.
With the exception of the Celebration Garden at San Francisco Botanical Garden, we limit access into the gardens but do not guarantee complete privacy.
There is no dedicated WiFi within the Conservatory or Botanical Gardens. Depending on your phone carrier, cell service is accessible in most of the Gardens.
A generator will be required for electricity. There is no access within the Gardens.
Limited street parking is available on Martin Luther King Jr. Drive, Nancy Pelosi Drive, and surrounding streets. The Music Concourse Parking Garage is within walking distance of the Conservatory and San Francisco Botanical Garden. For the hours and for additional information visit http://goldengateparking.com/. Valet service can be utilized with prior approval and permitting through SF Rec and Parks.
The Celebration Garden in San Francisco Botanical Garden is available for tenting. Depending on the tent and layout, up to 400 people can be seated on the main lawn. Additional setup and breakdown days may be required.
Your rental includes admission to the Garden for you, your guests and your vendors. They may enjoy the Garden during the hours that it is open to the public.
The Gardens are available for photography and filming. Large non-commercial and commercial shoots require a fee and permit confirmed 30 days prior to the shoot. Photography and filming that takes place outside of the Conservatory, Botanical Garden, or Japanese Tea Garden requires permits through San Francisco Recreation & Parks.
Commercial photography or filming is any photography or filming that will be used for commercial purposes. Please submit your request here for more information.
Non-commercial Photography and Film for Parties of 6 or More are also required to have a permit and staff member with them at all times in order to ensure the safety and enjoyment of all guests. Please submit your request here, including details about your film or photo shoot. For individuals or groups up to five (including the photographer), a permit is not required.
All permits must be confirmed 30 days in advance, with a signed contract and full payment.
To obtain a permit for the Conservatory Valley or any other areas in Golden Gate Park, please contact San Francisco Rec and Park at (415) 831-5500 or on their website.
General Photography Rules
As the Gardens are open to the general public and have narrow pathways, we have the following rules for daytime photography:
No tripods or free-standing equipment allowed
All bags or equipment must remain on a person in your party at all times
No music or amplified sound
Bags or equipment cannot be left in pathways or on benches for any period of time
Shoes must be worn at all times
No nudity or lewd activity or behavior
No movement of plants or Gardens property allowed
No holding of crowd or prevention of other guests to roam freely
Doorways must be kept clear with doors allowed to open in both directions, freely
Pathways must be kept clear at all times
Inquire About a Private Event
Complete the Event Inquiry Form below to tell us more about your event.